Meningkatkan Daya Kreativitas Edupreneurship Melalui Pembinaan Dan Pelatihan Desain Produksi Media Pembelajaran
Keywords:
Eduprenuership Creativity, Madrasah Ibtidaiyah, Learning Media
Abstract
Pentingnya media pembelajaran dalam menunjang proses pembelajaran seringkali terabaikan oleh guru dengan berbagai alasan. Diantaranya terbatasnya waktu untuk mempersiapkannya, sulit mencari media yang tepat, dan juga tidak tersedianya cukup dana. Program pengabdian kepada masyarakat ini memiliki tujuan untuk mengenalkan penggunaan media pembelajaran yang dapat menjadi alternatif bagi para guru dan dapat diimplementasikan dalam proses pembelajaran. Pengabdian kepada masyarakat yang dilakukan ialah memberikan pelatihan membuat media pembelajaran berbasis online dengan memberikan produk digital berupa CD sebagai pengembangan media pembelajaran bagi siswa Madrasah Ibtidaiyah di Desa Sumberkerang Kecamatan Gending Kabupaten Probolinggo. Peserta pengabdian adalah guru-guru yang tergabung dalam MGMP MI. Untuk kepentingan layanan pengabdian dan ketersediaan sarana dan prasarana maka terpilih 10 orang guru. Pelatihan diadakan di Madrasah Ibtidaiyah Tarbiyatul Islamiyah selama 2 hari pada tanggal 5-6 April 2021 jam 08.00-12.00 WIB. Pelaksanaan pengabdian secara umum dapat dikategorikan berhasil dari segi partisipasi peserta mengingat dari 10target peserta yang diundang yang hadir sebanyak 6 sampai dengan 7orang. Peserta merasa kegiatan pengabdian ini sangat bermanfaat untuk mengembangkan media pembelajaran berbasis produk digital berupa CD yang akan digunakan dalam pembelajaran di sekolah masing-masing. Respon peserta atas kegiatan pengabdian yang dilaksanakan menyatakan bahwa dari kualitas pemateri, kualitas modul adalah sangat baik.
References
Bali, M. M. E. I. (2019). Implementasi Media Pembelajaran Berbasis Teknologi Informasi dan Komunikasi dalam Distance Learning. Tarbiyatuna: Kajian Pendidikan Islam, 3(1), 28–38.
Bali, M. M. E. I., & Musrifah. (2020). The Problems of Application of Online Learning in the Affective and Psychomotor Domains During the Covid-19 Pandemic. Jurnal Pendidikan Agama Islam, 17(2), 137–154. https://doi.org/https://doi.org/10.14421/jpai.2020.172-03
Bali, M. M. E. I., Zuhri, R. A. A., & Agustini, F. (2019). RAGAM MEDIA PEMBELAJARAN: Desain Produksi dan Implementasinya di Madrasah Ibtidaiyah. In Pustaka Nurja. Pustaka Nurja. https://lp3m.unuja.ac.id/bas/ikehiihhjag.html
Blau, I., Weiser, O., & Eshet-Alkalai, Y. (2017). How do Medium Naturalness and Personality Traits Shape Academic Achievement and Perceived Learning? An Experimental Study of Face-to-Face and Synchronous e-Learning. Research in Learning Technology, 25(1974), 1–23. https://doi.org/10.25304/rlt.v25.1974
Evain, C., & Marco, C. De. (2018). The eZoomBook Tool: A Blended and Eclectic Approach to Digital Pedagogy. Journal of Education and Training Studies, 6(8), 139–148. https://doi.org/10.11114/jets.v6i8.3428
Islam, S., Baharun, H., Muali, C., Ghufron, M. I., Bali, M. M. E. I., Wijaya, M., & Marzuki, I. (2018). To Boost Students' Motivation and Achievement through Blended Learning. Journal of Physics: Conference Series, 1114(1), 1–11. https://doi.org/10.1088/1742-6596/1114/1/012046
Jeffrey, L. M., Milne, J., Suddaby, G., & Higgins, A. (2014). Blended Learning : How Teachers Balance the Blend of Online and Classroom Components. Journal of Information Technology Education, 13, 121–140. https://doi.org/10.28945/1968
Oktavia, D., Bali, M. M. E. I., Rahman, H., Umar, U., Syakroni, A., & Widat, F. (2019). Exploration of Fine Motor Skills through the Application of Paint. WESTECH, 1–6. https://doi.org/10.4108/eai.8-12-2018.2284038
Rahman, K., Wahid, A., Afandi, I., Bali, M. M. E. I., & Hakim, L. (2019). Effectiveness of Teams Teaching-Hybrid Learning (TTHL) in Higher Education. WESTECH, 1–6. https://doi.org/10.4108/eai.8-12-2018.2284036
Rozi, F., Bali, M. M. E. I., Firdaus, S., Wijaya, M., Mursyidi, R. A. Al, Haqiki, M. W., & Abidin, Z. (2020). Learning Management; Identifying Learning Styles of Language Learners in Madrasah. Proceedings of the International Conference on Industrial Engineering and Operations Management, 5(August), 3783–3790.
Septantiningtyas, N. (2018). Pengaruh Pembelajaran Jarak Jauh dengan Aplikasi Google Class terhadap Hasil Belajar Mahasiswa. Edureligia: Jurnal Pendidikan Agama Islam, 2(2), 1–5.
Tahir, R., & Wang, A. I. (2020). Codifying Game-Based Learning: Development and Application of LEAGUÊ Framework for Learning Games. The Electronic Journal of E-Learning, 17(4), 69–87. https://doi.org/10.34190/ejel.20.18.1.006
Wahid, A. H., Najiburrahman, Rahman, K., Faiz, Qodriyah, K., Hambali, Bali, M. M. E. I., Baharun, H., & Muali, C. (2020). Effectiveness of Android-Based Mathematics Learning Media Application on Student Learning Achievement. Journal of Physics: Conference Series, 1–7. https://doi.org/10.1088/1742-6596/1594/1/012047
Yu Jin, N., Tarmizi, M. A. bin A., Halim, A., & Karim, A. A. (2014). Team Teaching in Higher Education: The Relationship Between Team Norms and Effectiveness. International Journal of Arts and Commerce, 1(1), 1–15. https://www.researchgate.net/publication/260317817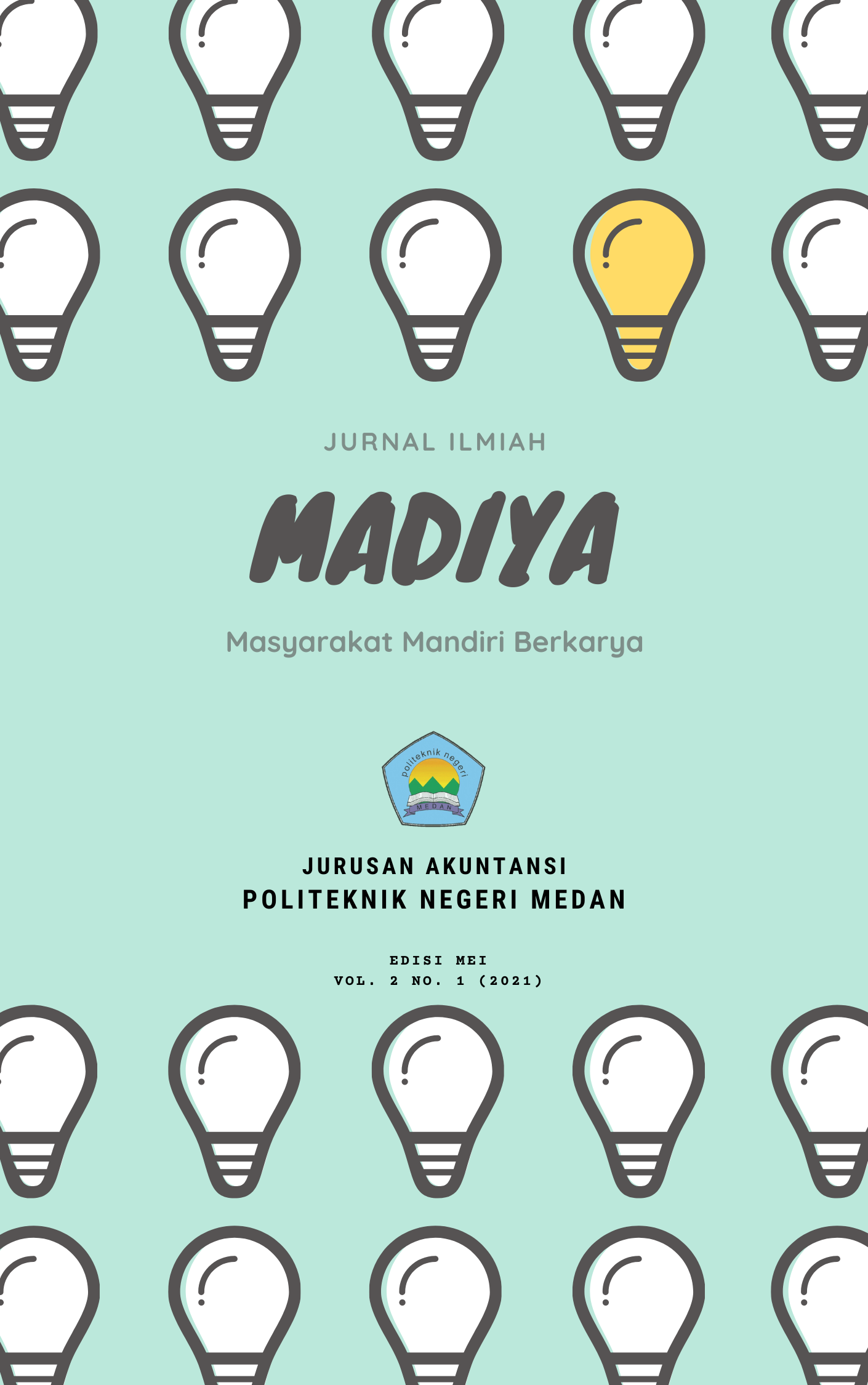 Downloads
How to Cite
Bali, M. M. E. I., Jailani, M. D. ., Romaodhoni, M. N. ., & Ratnawati. (2021). Meningkatkan Daya Kreativitas Edupreneurship Melalui Pembinaan Dan Pelatihan Desain Produksi Media Pembelajaran. Jurnal Ilmiah Madiya (Masyarakat Mandiri Berkarya), 2(1), 20–28. Retrieved from http://ojs.polmed.ac.id/index.php/Madiya/article/view/431